Wednesday, July 25, 2007
Official Contest For Guavaween DVD
So after some thinking and some entries I remembered back when Willa said in a interview that she was supposed to be on the cover of playboy but due to some issues she wasn't.
So for the contest you will have to re-create the playboy cover and instead of Jessica Alba put Willa on there. Make it look as real as possible without changes all the titles and words on the cover.
Only Use Pictures From Playboy.
Everyone will have until August 4th to submit your entries and then we will begin the voting process. Good Luck Everyone!
Also check out
DAFONT.COM
for hot free fonts. The one closest to the Playboy font is "Freshman". GOOD LUCK!
Send All Entries To: Sho0wst0pp3r@gmail.com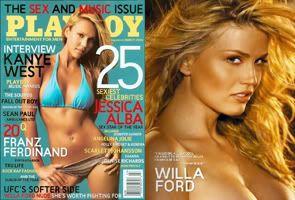 Search:

Jessica Alba Playboy


on Google, there you will find a high quality version of the cover.
WillaMania


8:26 PM
0 <-- Leave Comment