Friday, August 10, 2007
And The Winner Is...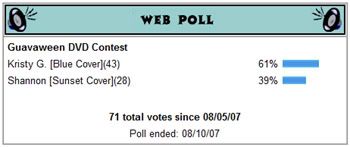 Congrats to Kristy G. for competing in the "DVD" contest! I was amazed at how good and how much dedication went into each entry. Which is why I think they both should receive a copy of the Guavaween concert. I will have another contest soon... but next time its going to be a prize pack and their will be prizes for 1st place, 2nd place & 3rd place. I will contact Kristy & Shannon this week, so we can arrange shipping. Thanks everyone who voted!
WillaMania


2:05 PM
0 <-- Leave Comment